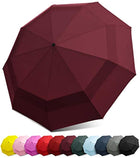 Description
210T Super Water Repellent Fabric

WHILE OTHER CONVENTIONAL UMBRELLAS get easily flipped or inverted in the wind and break, the EEZ-Y TRAVEL UMBRELLA has a vented DOUBLE CANOPY construction that allows the wind to pass through the vents, preventing it from flipping over and breaking in strong gusts of wind. Prepare yourself to never get soggy again with this outstanding protection!

YOU WON'T HAVE TO CHANGE YOUR WINDPROOF UMBRELLA each season again. Our Unique Frame Systems are made of Premium Fiberglass and High-Quality Stainless steel so that you never have to confront yourself with the hassle of a broken or rusted compact umbrella. The Strengthened Black Metal Shaft and 9 Fiberglass Ribs (compared to the usual 6 or 8) ensure high resistance to 55 mph wind gusts, so you'll always be dry!

NO MORE CHOOSING BETWEEN PROTECTION OR PORTABILITY. Lightweight and durable, this excellent umbrella gives you the best of both worlds. The 210T specially coated water repellent fabric and slip resistant rubberized handle make it outperform other compact umbrellas. Foldable to 11 inches, it is small enough to slip into a backpack, tote or bag

WE STRONGLY BELIEVE that an umbrella should be easy to use, that is why our TRAVEL UMBRELLAS have a fully automated system, perfect for one handed operation. Simply OPEN or CLOSE the rain umbrella with a press of a button within one second. This feature gives you quick rain and sun protection, making sure you have a wonderful time outdoors, no matter the weather.

YOU'LL SIMPLY LOVE YOUR NEW TRAVEL UMBRELLA, but don't just take our word for it! Our LIFETIME GUARANTEE ensures that for the first 90 days we offer a full refund if it doesn't meet your expectations and a replacement warranty for the lifetime of your purchase! Better products, and the best in customer satisfaction. That's the EEZ-Y way!